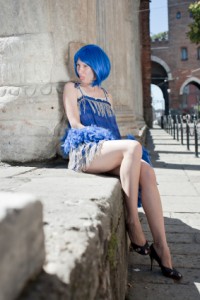 They say ideas are a dime a dozen, even character ideas. Many experienced authors don't even think about it anymore; they don't remember when they were just starting out, facing a blank page, without any idea how to make their characters full and interesting. Because when it comes right down to it, if you want ideas for your fictional characters should be like, you can just look at the people around you. I tend to write down character ideas, as they occur to me, in an idea journal, which I can then go back to for inspiration when I'm when I'm writing a story. All authors at some level base their fictional characters on what they observe of real-life people.
But it takes more than just throwing character ideas at the page, if you want to end up with an actual story. Character ideas may give you zany and quirky, but if you want your characters to have depth, you have to make them feel like real, full-fledged people. In other words, you need characters that have a story to tell.
The image I chose to appear above for this post, that's a special photo. I searched on Flickr and iStockPhoto, my standard sources, for photos of quirky and eccentric characters. Most of the interesting ones were just crazy-looking dudes with stupid hair or dorky glasses. But this particular photo stuck out at me, because I couldn't help but ask myself, What is her story? Sitting in an ancient city; wearing a very short, wild, tasseled skirt; knock-out pretty, except for that look on her face; blue hair. What's her obsession with wild blue? Who's she sticking her tongue out at? What's she waiting for, sitting on that wall? This character has a story to tell.
You don't just want random, quirky characters. (Or if you do, you don't need to be here. Just throw random character traits at them, and you'll be fine.) You want characters who have a unique story to tell. And then you want to tell their story.
So, there's a brief example of how you can begin putting together a character, not as a mere collection of raw character ideas, but as a full-fledged, realistic person. The key is to go deep with the characteristics you uncover. Ask yourself the why's and wherefore's. And don't ever accept that your character is just random or strange, because chances are, she makes perfect sense, if you try hard enough to understand her.
Keep writing!
-TimK