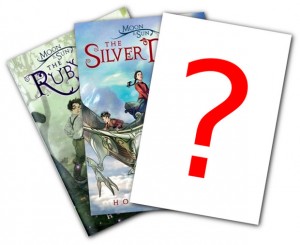 As of May 1st, prices are going up on Holly Lisle's online career-survival course for novelists.
Update: I'm just going through the first couple of walkthroughs Holly has so far added to How to Think Sideways. And all I can say is, "Wow!"
---
Two important announcements that Holly Lisle posted on her blog last week: one about a new book, and the other about how she's going about getting it written.
As you may recall, the Little One and I both loved The Ruby Key, Holly Lisle's first Moon & Sun book. Our paperback copy got so tattered, from reading and lending out, I snatched up a NOS hardcover I saw listed at Amazon. We also liked the second book, The Silver Door, a lot, though I didn't post a review. Unfortunately, The Silver Door left off before Genna the heroine conquered the villain and saved the universe. To be continued?
But the story never was continued… until now.
Says Holly, "More than a month after I intended to start, (due to Circumstances Beyond Our Controlâ"¢), today I'm beginning The Last Moon & Sun…which is not the title of the book, but I have to call it something until I have a real title."
And as soon as I read these words, I told my Little One "Guess what?!" and she said "Yay!"
From what Holly says on her blog about this new title, it sounds like exactly what we've been waiting for.
And the way she's funding it sounds like what I might do in her situation:
I have a huge risk going into this. I don't have (or want) a contract. I want to be able to do this the way it needs to be done, and that means I don't want an advance that has to be paid back hanging over my head if the publisher doesn't like the story I come up with, or doesn't like the length of the book and wants me to rip out half of it and remove one of the two main characters, for example (because, gee, THAT's never happened to me before), or wants me to change the story in ways I don't like.
She's alluding to the story behind Hawkspar, whose ending made me cry, because it was one of the best endings I've ever read, and whose story earned the novel a place in my list of all-time favorite books. Hawkspar almost never made it to print, because of the way the book industry works.
So to help fund this book, she's releasing a major upgrade to her How to Think Sideways online career-survival course for novelists, which I myself got into early and for which I am a proud affiliate… But I'll get to that part of the story in a moment.
Says Holly about the upgrade:
I'm going to be adding mostly-weekly demonstrations on how I apply the techniques of How To Think Sideways to my own work to the course.

As happens with every book I write, I'll make some discoveries on how to write better, more richly, more efficiently, more passionately, and more deeply while I'm doing this book. Anything I discover, I'll pass on to you. Any tools I come up with, any worksheets I create for my own use, any techniques…you'll get them as I figure them out.

I'll make time to be on the boards to answer a few questions, to ask a few questions, and to set up some specific discussion topics.

And I'm adding one other thing. Each week that I post my own Walkthrough, I'll also be offering a one-hour brainstorming session to one student. I'll record that session and include it in the course so you can see not just how that week's techniques work for me, and how they might work for you, but how another student can apply them to his or her work—getting that third perspective can be enormously helpful when you're facing situations you hadn't anticipated.
I was lucky enough to get into How to Think Sideways as a beta tester, 2½ years ago, and it gave me so much food for thought, I still don't feel I've really made best use of it all. Instead, the course materials have become one of my go-to writing resources. As soon as Holly opened the course to the public, I posted a link on my sites. And when she set up an affiliate program for it, I immediately signed up, because I was certain that every novelist in the world would need this course.
The course was originally supposed to span four months, but the amount of material she included ended up stretching across seven. (I know the feeling. It's exactly what I've been encountering with Character Fiction 101. I'm up to 114 pages of a planned 100-page ebook, and I'm not even half-way through yet.)
I haven't even made regular use of the HTTS forums—which have apparently grown into a professional writers' online community.
Then she added the How NOT To Write A Series (And Why You Don't Want To) mini-course, as a graduation bonus. (Only "mini" compared to the size of HTTS.) (Which will be invaluable when I pick up Abe's Turn again.)
Through all the additions, ever since Holly first released this course 2½ years ago, she has maintained the debut price.
But only for a few more weeks.
With this new, major upgrade, she's raising the price. But through the end of April, you can still get into the class for $25/month for 12 months or $47/month for six months— That's the original price for the upgraded course. When you join at that price, you're grandfathered in at that price, and as long as you don't quit, you stay at that price all the way through to the end of the course, and through all the upgrades.
May 1st, though, prices are going up.
Even if you wonder how much use you'll make of it, at least check out How to Think Sideways: Career Survival School for Writers, because you can try it risk-free with Holly's refund policy. (If it turns out not to be as useful for you as it has been for me, you can always cancel for a full or partial refund.)
And whatever you do…
Keep writing!
-TimK